CHEW: The Roleplaying Game - Quickstart / $0.00
:
Publisher
: Imagining Games
The award-winning, Image comic book series and New York Times Best Seller is coming to a game table near you! Take a bite out of crime in this foodie, dark-comedy tabletop role-playing game about cops, crooks, cooks, cannibals, and clairvoyants in a clucked-up world.
We're building off the popular fiction-first game mechanics of Forged in the Dark to bring the action-packed comic series of food crimes, over-the-top characters, and out-of-this-world conspiracies to life.
Some pillars of play include...
Investigating intriguing cases.
Engaging with tense action sequences.
Participating in narrative-driven play phases.

Balancing your personal trouble with the needs of the case.

 
A narrative structure that pits players against nefarious villains, challenges them to solve outlandish cases, and reveals ever-expanding conspiracies. 
The World Has Changed
In a world where all poultry (I'm looking at you chicken) is illegal after a catastrophic outbreak of the bird flu killed over 100 million people, the U.S. Food and Drug Administration is now the most powerful law enforcement agency on the planet. As a member of the Special Crimes Division, it's your job to investigate food crimes from chicken trafficking and egg dealing, to fricken (chicken/frog hybrids) mutants gone wrong, and put food-powered criminals behind bars.
Food Powers
Yeah, that's right! Food. Powered. Criminals. The world looks almost like our own except for the intrusion of food-powered mutations. No one knows when they appeared in human history, but some people just have them. Maybe you cook, eat, or draw food, but when YOU do, something supernatural happens. You have a unique experience with a particular food not many can relate with. 
Maybe you...
are what you eat. (how is that even useful?)
carve weapons out of chocolate. (if only you could stop eating the ammo.)
or can see the past of anything you taste. (It's not pretty!) 
It's zany, it's dark, it's a ton of fun in an absurd world!
Welcome to the CHEWniverse!
CHEW is the serialized TV show you wish you were bingeing every time you give up and throw on Parks and Rec reruns. The formula of a few parts gross cannibals-against-crime, a few parts absorbed memories, and a cast of zany lovable characters is pure CHEW." - Dave Buesing - Comic Book Herald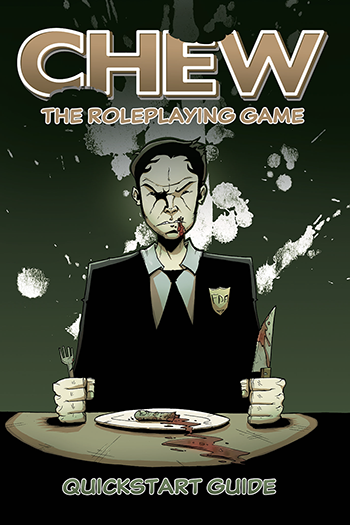 Price
: $0.00