Against the Dark Conspiracy / $10.66
:
Publisher
: Gallus Games
A shadowy supernatural Conspiracy…
A group of Operators committed to taking it down…
The people they care about and the history they share…
Explore them all in…
Against the Dark Conspiracy
Against the Dark Conspiracy is a supernatural thriller tabletop roleplaying game for 4-6 players. One of them takes the role of Control while the others each play an Operator.
The game is inspired by the mechanics of, among others, Cthulhu Dark (by Graham Walmsley) and settings such as Night's Black Agents (by Ken Hite).
Against the Dark Conspiracy is written to require zero preparation but includes advice to Control on how to prepare or adapt materials published for other games, if that's an approach they prefer. 
All the players cooperate to outline the Operations they'll be embarking on and collaborate to find out more about the threats and complications they'll face while having the opportunity to describe an obstacle they'd look cool overcoming.
They may identify people, organisations or items that are important to the Conspiracy or to which it is vulnerable.
They may exploit willing or less willing Conspiracy pawns or innocent and unknowing dupes to help them understand what's going on.
They'll have opportunities to define the powers and weaknesses of their supernatural foes and to co-create the monsters they want in their game.
Three different Conspiracies are described in the rules: Vampires, Demons and Fae. Each comes with advice on its motives, and how that can influence plot arcs involving them. They also include examples of each Conspiracy's Supernatural Servitors and the Monsters at its heart, as well as details of the kinds of (mostly) mortal pawns they can deploy. 
Operators are capable individuals who previously made their living in the world's overlapping crime and espionage communities. Doing dubious and dangerous things for their country or personal gain has left Operators with few ties to family or friends. The ones that remain are all the more important, which is why their team matters to them. They may not all be the best of friends. They may have complex histories with one another that can be revealed in play, but they all trust one another.
Together that team are making a stand against the Conspiracy; to take it down one corrupt piece at a time. If they don't, it will catch up with them and anyone they still care about.
The rules include guidance on the Tone of the game and potential Content Warnings, along with suggested Safety Tools aimed at ensuring everyone at the table has a good time.
Access to an Google Sheets 'character keeper' is included to facilitate Online Play.
You can follow the development of the game through to its final playtests, and sessions in which material published for other games has been used to scaffold play in the Against the Dark Conspiracy playlist on my YouTube channel. One of the final playtests is linked below: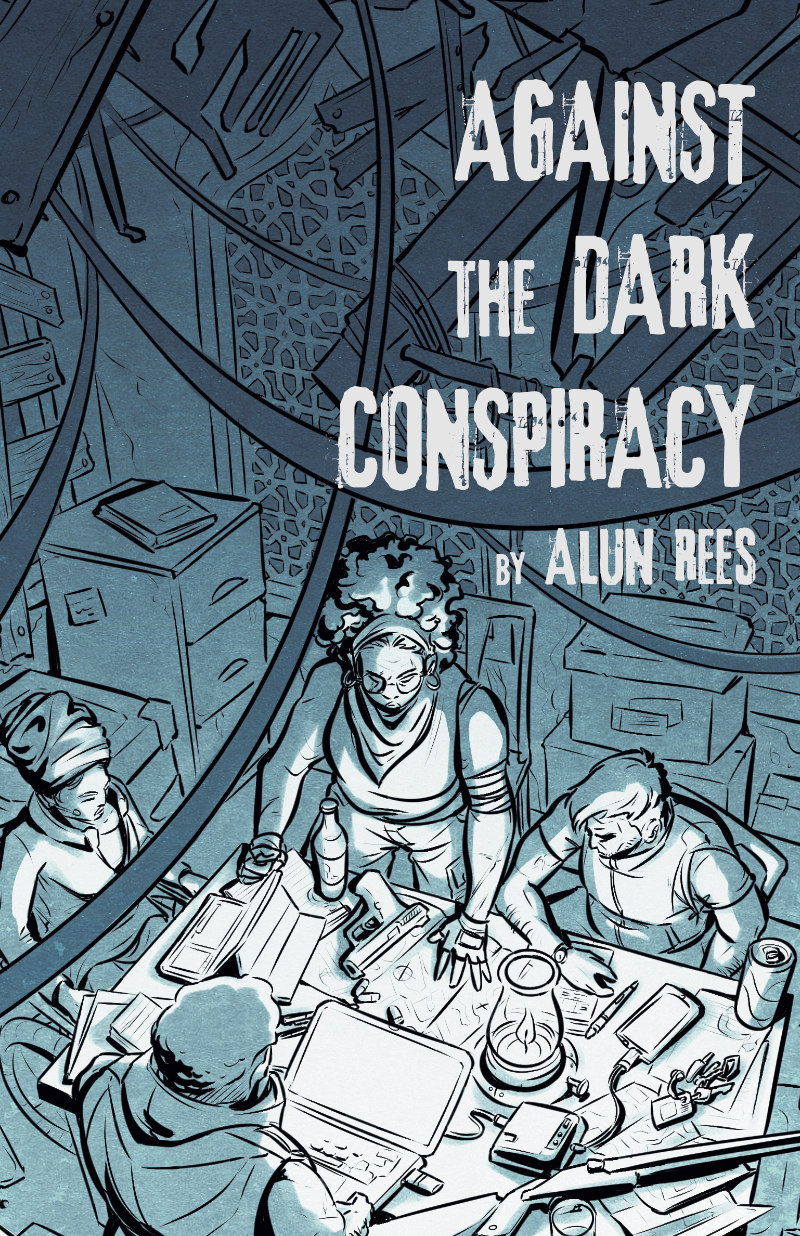 Price
: $10.66