Cowgirls vs Zombies / $9.99
:
Publisher
: Total Party Skills
Cowgirls vs Zombies is a complete roleplaying game for One-Shot Adventures and Short Campaigns where players take on the roles of women on the American Frontier, forced to survive in the face of a zombie outbreak in the Colorado Territories of 1866.
Rules are provided for gameplay, Character Creation, and a detailed look at Ghosts and how they go about possessing the living and the dead, as well as a variety of other supernatural menaces from the Shadow Zone!
Cowgirls vs Zombies is compatible with both Amazon Time Barbarians, and Ghosts of the Shadow Zone, to provide a glimpse into the horrors of the Old American West. Open-ended gameplay allows Game Masters and Players to either run a quick and dirty shoot-em-up as our Cowgirl heroes fight their way out of Zombie-infested Denver, or the adventure can be stretched out over multiple sessions, should the Players choose to find a way to end the Zombie plague, and save their afflicted families and friends.
Cowgirls vs Zombies uses the Total Party Skills rules system, an OSR-inspired variant of the skill-based rules popular in the 90's.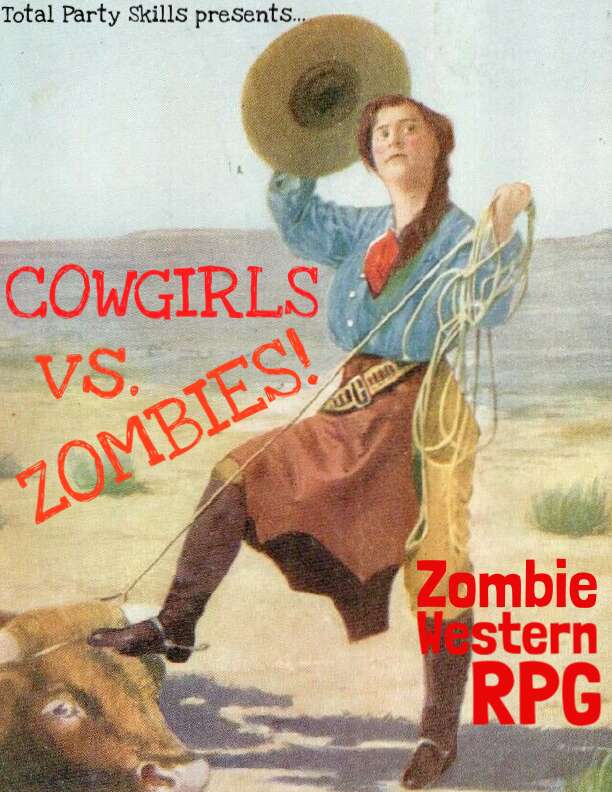 Price
: $9.99