Révolution - RPG [$10.00]
: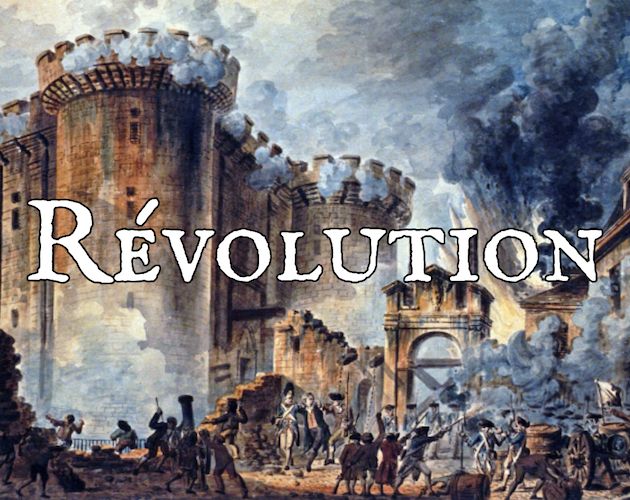 Révolution gives us politicians and detectives; mobs and weddings; cults and catholics; orphans rising to lead armies or command demons; the sounds of battle in the streets of Paris; the smell of gunpowder and alcohol; the feel of a knife in your back; asking "What do you do next?"
In Révolution you play as a powerful person in Paris during the French Revolution. You and your fellows are constantly fighting for prime position within the Parisian political landscape, even as that landscape crumbles around you. Play to find out if the police betray the crown to their doom, or if the secret cult of an eldritch god manages to infiltrate Robespierre's tyrannical committee.
What you need
This is a game for 2 to 4 players. You will need enough paper and writing utensils for all players, and a single Tarot deck to share amongst the table. You can purchase a Tarot deck from many game or occultism stores.
The System
This game runs on the Belonging Outside Belonging system as designed by Benjamin Rosenbaum (@ben_rosenbaum) and Avery Alder (@lackingceremony). This is a GM-full, token based system where players have to put themselves into bad situations to earn tokens, and then use those tokens to dig themselves back out.
Since this is a beta test, some existing knowledge of the Belonging Outside Belonging system is required.
A Warning
This game, like many other games that deal with player vs player conflict, politics, demonic worship, sex, and backstabbing, may be disturbing or traumatizing for some people.
In order to make this game an enjoyable experience for all players, it is highly suggested that you play with the Script Change tool at your table. More information about Script Change can be found at
briebeau.com/scriptchange
.
This is a Public Beta test.
As such the game is incomplete in many areas, especially the rules taken from Dream Apart/Dream Askew. Many rules changes can be expected in the coming months. If you would like to contribute to the play test (and potentially get your name in the back of the final book) please send feedback to
TyphosGames.Info+Revolution@gmail.com
. Purchasing the game will grant you free updates as they come out.
In order to download this game you must purchase it at or above the minimum price of $10 USD. You will get access to the following files:
Support this game at or above a special price point to receive something exclusive.
Each copy of Révolution you buy at full price helps someone else grab a free copy if their budget doesn't enable them to pay the listed price. If you're unable to budget for a copy of Révolution priced as listed, please claim one of these free copies for the community.