Dreaming the Cave [Free]
: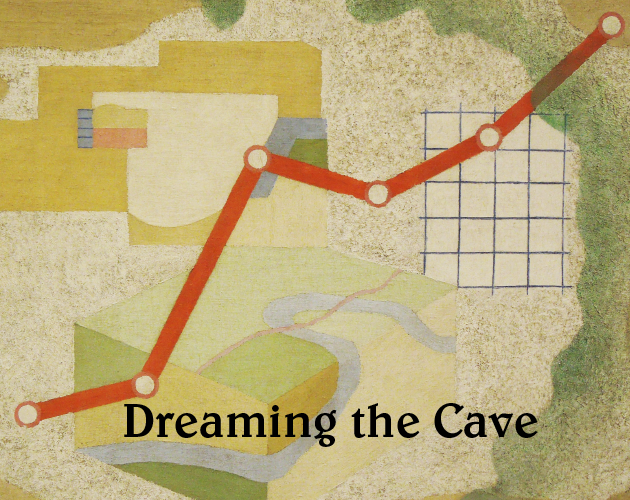 In this game, two people explore a surrealistic dream connection to continue a partnership between avant-garde Czech artists Toyen and Jindřich Štyrský beyond Štyrský's early death.

Two players will collectively create dream stories to connect Toyen and Štyrský and Toyen. They will be prompted to develop those stories by drawing cards with the artists' paintings, placed along the path in Štyrský's painting Jeskyně (The Cave).
About the artists
Toyen, born Marie Čermínová, (1902-1980) was a genderqueer Czech painter, drafter, and illustrator. Toyen refused to use feminine endings for their name, which has been proposed as coming from the Czech expression 'to je on' ('it is he'). Their work heavily explored gender issues and sexual politics.
Jindřich Štyrský (1899-1942) was a Czech Surrealist painter, poet, editor, photographer, and graphic artist.
As artistic partners, they worked and exhibited together, moving from earlier Cubist work to Surrealism in partnership. They were both members of Czech avant-garde group Devětsil. In 1927, they founded their own art movement, Artificialism.
About this game

This game was designed for the Gaming Like It's 1926 game jam, which uses work that has entered the public domain in 2022.
It is the third in a series of games that engage with art by creating experiences through games.
The first two in the series were The 24th Kandinsky and Fish Magic.
Design notes
Dreaming the Cave is one of a series of games that engages players with a deeper understanding of works of art by creating experiences with them. In this game, players will have a chance to experience a series of paintings by important but not particularly well-known artists.
With Štyrský's painting entering the public domain, it was crying out to be the basis for a game, just because it looks like a boardgame already in some ways!
The game isn't a lesson in art history as such but I hope it is an opportunity to consider these works in terms of aesthetic and thematic principles, based just on what can be observed. By creating your own dream-stories, you'll see the paintings in a different way.
Dreams don't make sense. When further explored they tend to make less sense in some ways but more sense in others. The interaction between two players in telling a dream plays with this tension of knowability and describability.
Many tabletop games engage heavily with creative thinking processes and often are designed to help with that creativity. Yet, most creativity is directed (and academic definitions of creativity typically include some requirement of usefulness).
This game isn't trying to be useful in the world, and it's not trying to generate ideas that persist. It's about creating an experience of allowing your mind to do what it doesn't have a chance to do while awake very often.