Sapphic Slumber Party [$3.00]
: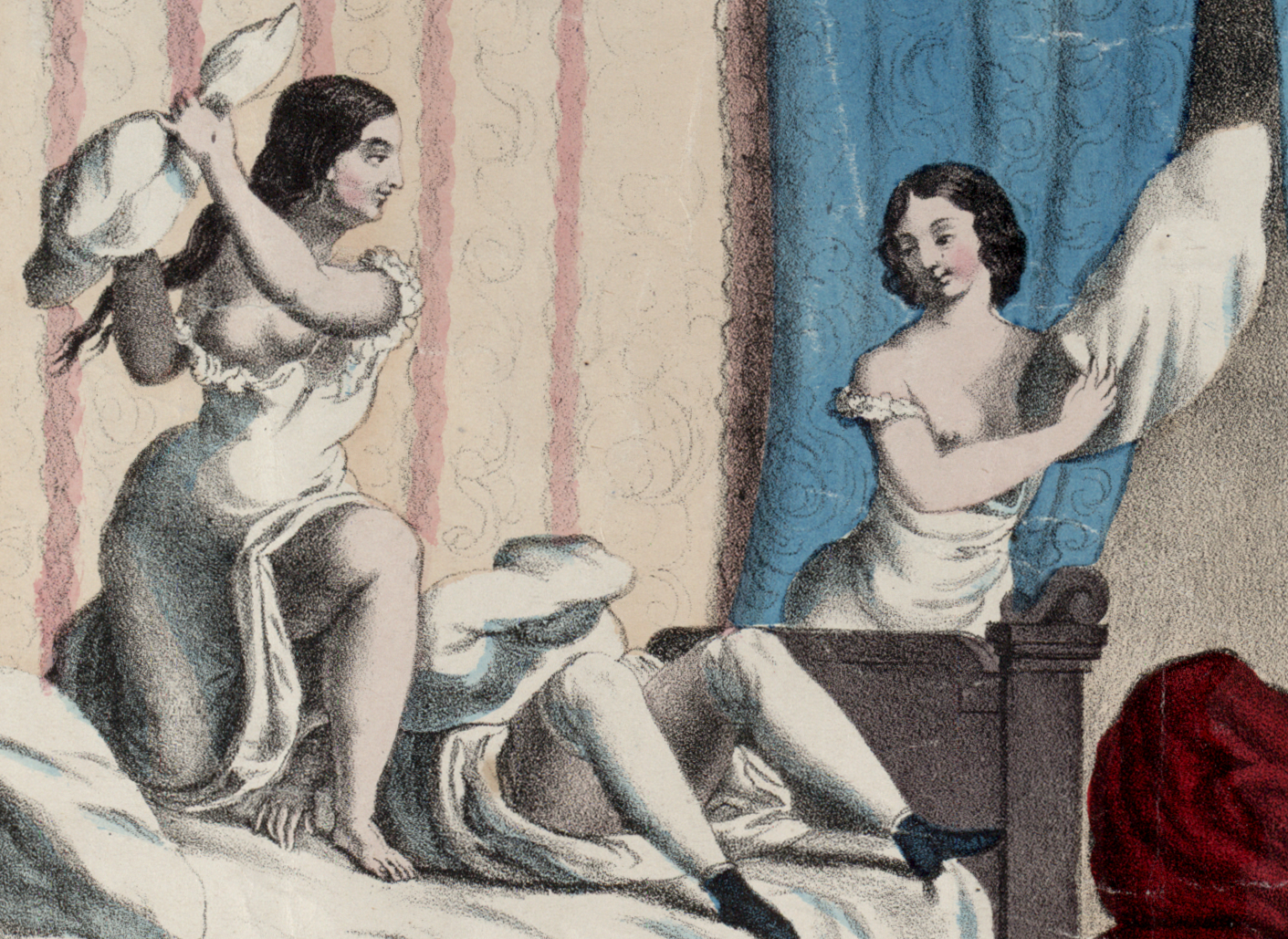 Sapphic Slumber Party is itchfunding!


Progress: $51 out of $250
Be brave. Be beautiful. Fall in love, just for a moment. And really just nail a beautiful girl with a pillow. 

Sapphic Slumber Party is a short zine game for 2-5 about a pillow fight at a slumber party, and all the joyful, melancholy, amorous, and vulnerable feelings that come out when you're playing in your PJs. Brief and lyrical, Sapphic Slumber Party is GMless and plays in 30-45 minutes.
Sapphic Slumber Party is itchfunding for Zine Month! That means it's crowdfunding right here on itch. The game is already finished and laid out; your purchase now will help create a print version (see below for more details).
The Story

Sapphic Slumber Party was inspired by a piece of public domain art, a 19th-century lithograph (artist unknown) called "A Bed-Room Bombardment", which shows half-dressed young women having a pillow fight. Some of them jump into the fray with joyful competitiveness, some hang back in delighted trepidation; one of them lies prone on the bed, apparently having just gotten totally taken out. All of them are having a blast.
My girlfriend found this piece of art in the online archives of the Smithsonian and sent me a link, noting "someone should make a game about this." I agreed, so I did. 
The Game
Sapphic Slumber Party is simple, short, and sweet. Make your character and tell your fellow players about her PJs and her anxieties; they'll help you figure out what's beautiful about her.

Then the pillow fight begins. There's no HP in a pillow fight, no victory or defeat that's more than momentary, just the vulnerability that being alone together and intimate and playing around create. Eventually that vulnerability spills over in a way that ends the pillow fight; play to find out exactly how.
The Writer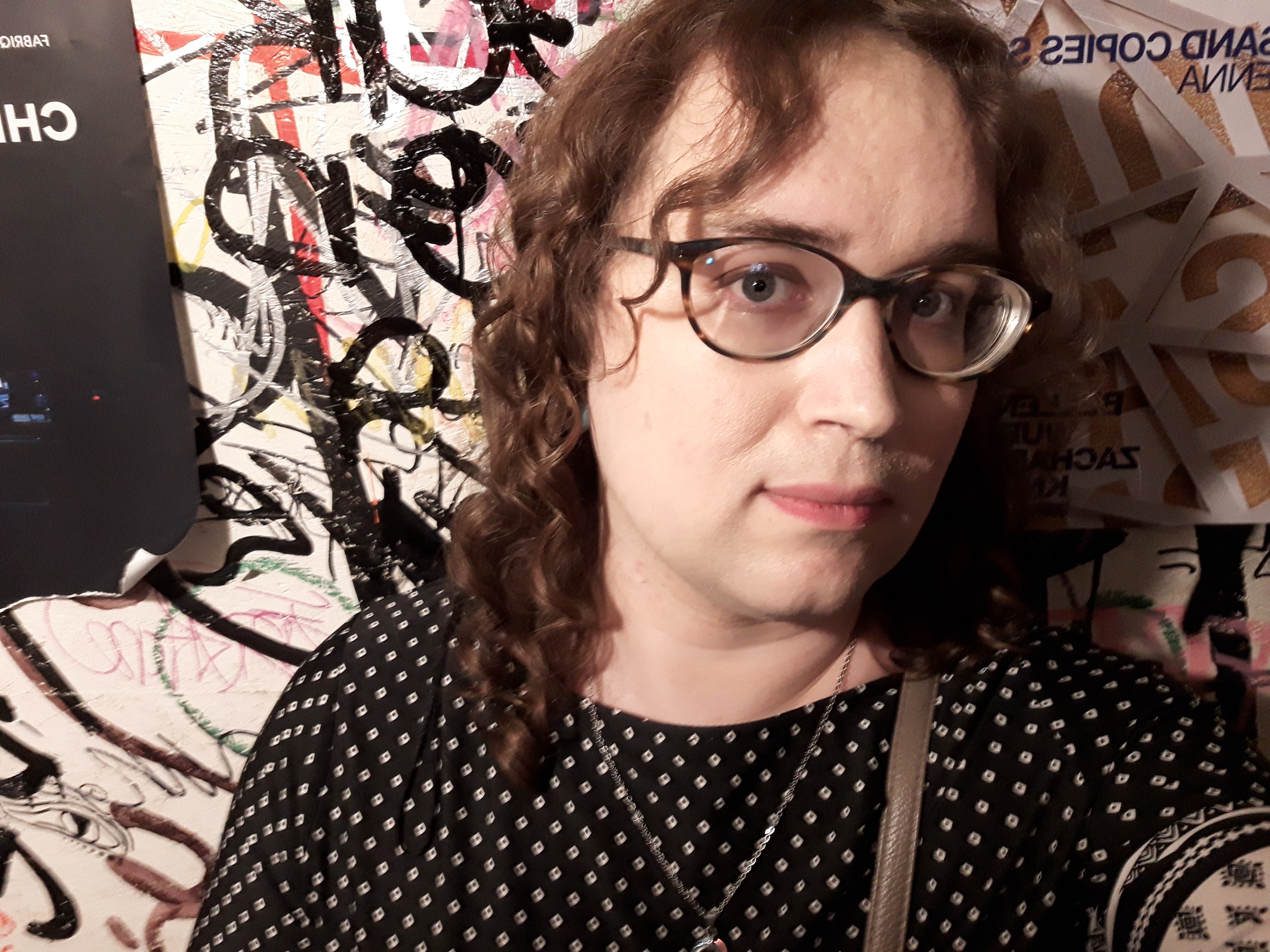 I'm a writer and game designer in Montreal, QC. I'm also an avid tabletop game-player and GM, a lesbian, and a trans woman. My work is interested in domesticity, intimacy, flirtation, and being gay as hell. A lot of my games writing has been digital, and you can see it on my itch page; I was also the writer and co-designer on Denial and Yearning, a ZineQuest project about lesbian romance novels which successfully funded in 2021. My writing also appears in Hard Wired Island.
What You Get For Backing

If you buy a digital copy of Sapphic Slumber Party, you'll receive a 9-page PDF containing the rules of the game and a foreword, about 500 words.
If you buy a physical copy, you'll get all of the above plus a beautiful, professionally printed copy of Sapphic Slumber Party mailed to you. Shipping is included in the price. 
Plus, as a special thank you, a pdf copy of Winona Rolls Persuasion, a short story about nerdy girls using role-playing games to flirt. 
Timeline and Risks

Since this is an itchfunding project, it's only fair to identify risks. The game is fully written and laid out, and pdfs are available now for backers at all levels; your purchase of a digital copy is just that, a purchase, not a pledge or pre-order.

For physical copies, the game has not been printed. Obviously global events - the pandemic, global supply chain problems, etc. - introduce a risk of delays to any print run. However, I will be using a well-regarded printer I've worked with before, including during the pandemic, who has always provided a quick turnaround. 
Allowing for padding and time for me to organize, pack, and ship, I expect to be able to mail physical copies within two months of the project successfully funding. I've worked to fulfill crowdfunding campaigns for zines before, and have a network of game designer friends who've been helping me to plan for this fulfillment process.
What if you don't fund?!
Not to worry! First of all, you'll still receive a digital copy of Sapphic Slumber Party immediately. Second of all, I plan on a print run regardless of the success of itchfunding. It is possible the printing will be delayed in that event, but I do have contingency plans in place to fund the print run. You'll get your zine even if we don't hit our goal.
I'm confused, what IS itchfunding?!

Itchfunding is crowdfunding, right here on itch. I chose itchfunding over a platform like Kickstarter because I'm trying to divest from Kickstarter. Find out more here: https://itchfunding.games/#faq.